The ideal bridesmaid robes are comfortable and favorable heirlooms that your bridesmaids and wedding party can appreciate and wear long after your wedding. You'll be spending time getting ready with your bridesmaids on a particular day. You'll like to feel confident and comfortable when getting your makeup and hair done, especially before walking down the aisle. You'll prefer to remember these memories for your lifetime and dressing up with your girls makes you feel extra special.
Bridesmaid robes are more than something to wear, having a coordinated wedding-getting-ready outfit leads to great photos, you will cherish for years. Concerning functionality, they will help in preserving everyone's done wedding hair and makeup. One of your favorite wedding day purchases will be loungewear, bridesmaid robe, and bridesmaid outfits. If you're unsure of what to look for when buying bridesmaid robes, below are some helpful tips.
Check out these tips when choosing robes for your bridesmaid
Consider your theme and style
In looking for the ideal bridesmaid robes, you will come across these basic styles: wrap, spa, and kimono.
Spa robes are normally the winners in bridal receptions, more comfortable fit. These robes are usually made of cotton and the size fits all.
Wrap robes are customized more compared to spa robes. They are generally comprised of lighter and thinner materials, such as polyester. Remember that those made of rayon and acetate may need dry cleaning and wrinkle rapidly.
Kimono robes are a good compromise between bath and wrap robes.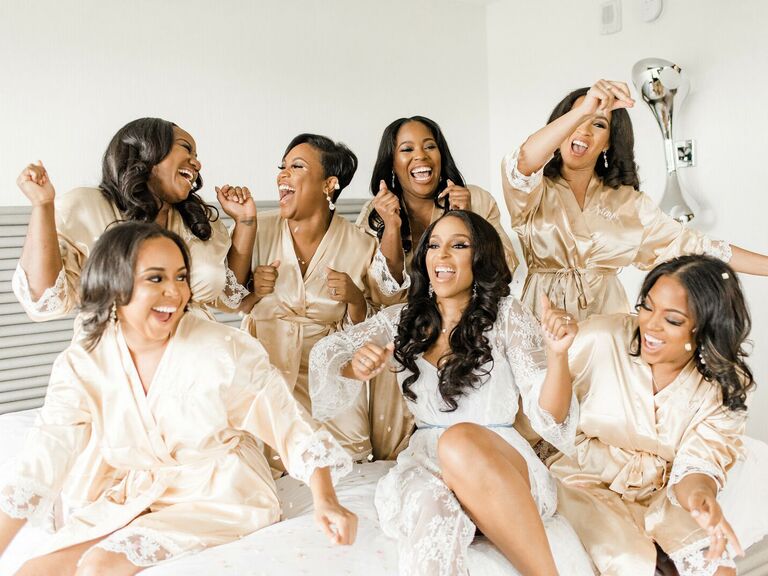 Choose a distinct color
It's customary to complement the bride's and bridesmaids' robes to the wedding theme yet choosing a color, the ladies may use for years after the wedding is more practical. Also, the hue must look well in photographs. You may have unique, complementing colors for the bride, maid of honor, bridesmaids, and other guests. The choice is primarily identified by what you believe is suitable for the special day.
Consider the length of the robes
Nobody likes bridal party robes that drag on the ground and are overly long or barely cover the backside. Those that are longer than those that shorten when covered around the torso and tied with a belt. You need to ensure the length suits every one of your girls comfortably. If possible, try to collect a list of the sizes of your bridesmaids before purchasing their robes. That way, you may be particular about buying the appropriate fit.
A robe as a personalized present for your mother and mother-in-law on your wedding day is a worthwhile gesture. It's a remarkable way to show them how much you value their presence on the most awaited day of your life. You can check this helpful guide when looking for the best bridesmaid robes.